Major Works
Nic Blake and The Remarkables: The Manifestor Prophecy (2023)
Concrete Rose (2021)
Find Your Voice: A Guided Journal to Writing Your truth (2020) (Nonfiction)
On the Come Up (2019)
The Hate U Give (2017)
Biography of Angie Thomas
Born in Jackson, Mississippi, in 1988, Angie Thomas published her first work of young adult fiction in 2017 – The Hate U Give.
Thomas was raised by her mother, Julia Thomas, and grandmother in Jackson.
During her younger years, she was a rapper, performing a few times and giving interviews on the radio and in newspapers. She began rapping at the age of 9. Her mother was her manager.
She was also featured in an article in RightOn Magazine in 2003. Some of her names used as a rapper were Young Short-A and Da Lil' Lady Pimptress.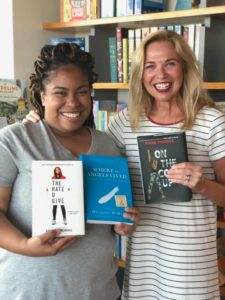 While Thomas won academic awards in her schools, she was home schooled for part of her high school years.
Thomas graduated from Belhaven University with a BFA in Creative Writing. It was at Belhaven, in a class taught by Joe Maxwell, that she wrote a short story that later became her first novel.
Thomas wrote a blog documenting her writing and publishing process and it's a good look into the world of a new author. It can be accessed here: http://acthomaswrites.blogspot.com/
She is represented by Brooks Sherman of the Bent Agency, who acquired the book in February 2016. The Hate U Give reached Number 1 on the New York Times bestseller list for Young Adult (YA) Hardcover books on March 9, 2017. As of September 21, 2018, it had spent 81 weeks on this bestseller list.
Thomas worked at New Horizon Church International in Jackson, as an assistant to the Bishop while she was writing the book.
Her book The Hate U Give was turned into a screenplay for a movie starring Amandla Stenberg, who originally acted in the Hunger Games. The movie was released October 19, 2018. The Hate U Give has been published in 13 countries.
Thomas attended the Mississippi Book Festival to serve on a YA Panel in 2018. Mayor Lumumba awarded Thomas the key to the city of Jackson on February 27, 2018.
Thomas's second book, On the Come Up, was published in 2019 and will be released as a movie in 2022.
Thomas currently lives in Atlanta, Georgia.
Awards
Awarded a Walter Dean Myers Grant from the We Need Diverse Books organization in 2015
William C. Morris Award for The Hate U Give in 2018
Michael L. Printz Award for The Hate U Give in 2018
Coretta Scott King Award for The Hate U Give
Waterstones Children's Book Prize in The Hate U Give in 2018
Audie Award (2018)
Goodreads Choice Awards (2018 and 2017)
Boston Globe-Horn Book Award for The Hate U Give
Reviews
Interviews
Angie has been interviewed by several media organizations. Read or watch the interviews below.
Interview on National Public Radio – Feb. 26, 2017
https://www.npr.org/2017/02/26/517305270/the-hate-u-give-explores-racism-and-police-violence
Politics and Prose Bookstore – 2017
Library of Congress – Nov. 2017
The Tea – 2017
Movie Trailer for The Hate U Give
Related Websites
Bibliography