Major Works
All the Days Past, All the Days to Come (2019)
The Land (2001) Coretta Scott King Author Award Winner
Mississippi Bridge (2000)
The Well: David's Story (1995)
The Road to Memphis (1990)
The Gold Cadillac: A Fancy New Car and an Unforgettable Drive (1987)
The Friendship (1987)

Let the Circle Be Unbroken (1981)

Roll of Thunder, Hear My Cry (1976) Winner of Newberry Medal in 1977

Song of the Trees (1975)
Guide for Using Roll of Thunder, Hear My Cry in the Classroom (Taylor et al)
Mildred D. Taylor: A Biography
by Carrie Margaret Steele (SHS)
Mildred D. Taylor was born in Jackson, Mississippi, on September 13, 1943. She is the daughter of Wilbert Lee and Deletha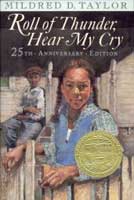 Marie (Davis) Taylor. Even though she was born in the South, she did not grow up there. Yet, for Ms. Taylor, the South still holds pleasant memories as the home of her family. When she was only three months old, her parents moved her and her sister to live in the North. They moved to a newly-integrated Ohio town called Toledo. When she went to school, she was the only black child in her class. Her father decided to leave the South in the mid-1940's because he did not want his children to live their lives as he had lived his, in a segregated, racist society that allowed little or no opportunity to blacks. Over the years she came to know the South through the yearly trips her family took to Mississippi and through the stories told whenever the family gathered. Mildred Taylor was quoted in Something About the Author, as saying, "As a small child, I loved the South. In my early years, the trip was a marvelous adventure, a twenty-hour picnic that took us into another time and another world." Her father told her many stories that he had been told when he was a boy. Some of the stories he had actually lived himself. She has used some of those stories in her novels.
Taylor attended the University of Toledo where she majored in English and minored in history. By age 19 she had written her first novel, Dark People, Dark World, the story of a blind white man in Chicago's black ghetto, told in first-person. Although Taylor's novel attracted some interest from a publisher, she disagreed with the editor's call for revisions, so it was never published.  After graduation she joined the Peace Corps on a teaching assignment on a Navajo reservation in Arizona.  She then went to Ethiopia as an English and history teacher for two years. When she returned, she worked for the Peace Corps recruiting and training new volunteers.  She attended the University of Colorado School of Journalism where she earned a Master of Arts degree in Journalism. While she was attending school, she worked with university officials and fellow students in structuring a Black Studies program at the university.  In 1971 Taylor moved to Los Angeles to write.  She supported herself with temporary work such as proofreading and editing.In 1972, Taylor married Errol Zea-Daly , but they divorced three years later. There is a daughter named Portia.
In 1973 Taylor entered a contest sponsored by the Council on Interracial Books for Children. Her book, Song of the Trees, won first prize in the contest's
African-American category and was published by Dial Books  in 1975. The New York Times listed it as an outstanding book of the year. This book  about the Logan family was the first in a series of nine books based on stories from her own family's history.  One of her best known, Let the Circle Be Unbroken,was nominated for the 1982 National Book Award and received the Coretta Scott King Award in 1983.
Mildred Taylor has won many other awards for her books.  She won the Coretta Scott King award for three of her books. She also won the Newberry Medal in 1977 for Roll of Thunder, Hear My Cry.  In addition, this novel was a National Book Award Nominee, a ALA Notable Book, a Booklist, Best of the Best Books, 1970-1982, a  Kirkus Choice, on The Horn BookFanfare Honor List , a New York Times Book Review Best Children's Book 1970-1980, and won the Pacific Northwest Young Readers Award.  Taylor has taken great pride in her heritage and provides historical fiction about life for the Logan family as many events in the stories are  based on events in Taylor's family  history.   In all of Taylor's stories, she has shown the true vision of black families and their racial struggles.
In 2004,  Mississippi celebrated a Mildred D. Taylor Day, and Mildred Taylor returned to her roots to address several hundred school children and adults at The University of Mississippi also known as Ole Miss.
UPDATE 2020
Mildred D. Tayor has written the final chapter of the Logan family in her last book of the ten book series with All the Days Past, All the Days to Come.
Reviews
A Review of The Friendship
by Carrie Margaret Steele (SHS)
The Friendship by Mildred D. Taylor was written in 1987. This story presents the racial confrontation between two men in 1933 and is a continuation of the Logan family in Mississippi.  In the story Cassie and her brothers have to watch their mouths when they are around white people. One of the older black men, Tom Bee, had saved the life of  John Wallace, a white storekeeper, when they were younger. In gratitude, John insisted that the two would always be friends and would only use each other's first names to address each other. However, when Mr. Bee addresses the store keeper by his first name in public, the children know there will be trouble. However, they are not prepared for the brutal scenes which they are about to witness that summer afternoon. This is one of the many stories  Taylor has drawn from stories her father had told her about his boyhood. This book shows how hard life was for black people. Just like in all her books, she provides a glimpse into history for blacks. Frances Bradburn says, "This is a story that children will experience rather than simply read. The humiliation, the injustice, and the quiet determination and pride of Mr. Tom Bee will speak to all children."  I would recommend this book to everyone, although some of the language might be a little hard to follow. Since the story takes place in Mississippi, the characters' Southern dialect is very prominent. Everyone should read this book in an attempt to understand the racial indignities that not only the characters faced, but many black people faced before the Civil Rights movement in the 1950's and 1960's.
Related Websites
Bibliography
Locher, Frances Carol. Contemporary Authors. Volumes 85-88. Detroit: Gale Research Company, 1980. 579.
Olendorf, Donna. Something About the Author. Volume 70. Detroit: Gale Research Inc., 1993. 222-226.
Taylor, Mildred D. The Friendship. New York: Dail Books for Young Readers, 1987.